We are building sustainable communities and community assets through great relationships
Working with clients who take pride in creating great communities for Australian families and businesses, Shadforth have constructed some of Australia's most sought-after residential communities and many commercial and industrial hubs.
As Queensland's largest family-owned civil contracting company, the success of Shadforth has come from forming great relationships with our clients. These relationships have been built on Respect, the positive energy and hard work of our People, our commitment to a Safety Culture and our Excellence in delivering quality projects.
These Core Values form the basis of our Shadforth "Client Charter", which drives our people to achieve great construction outcomes for each and every client.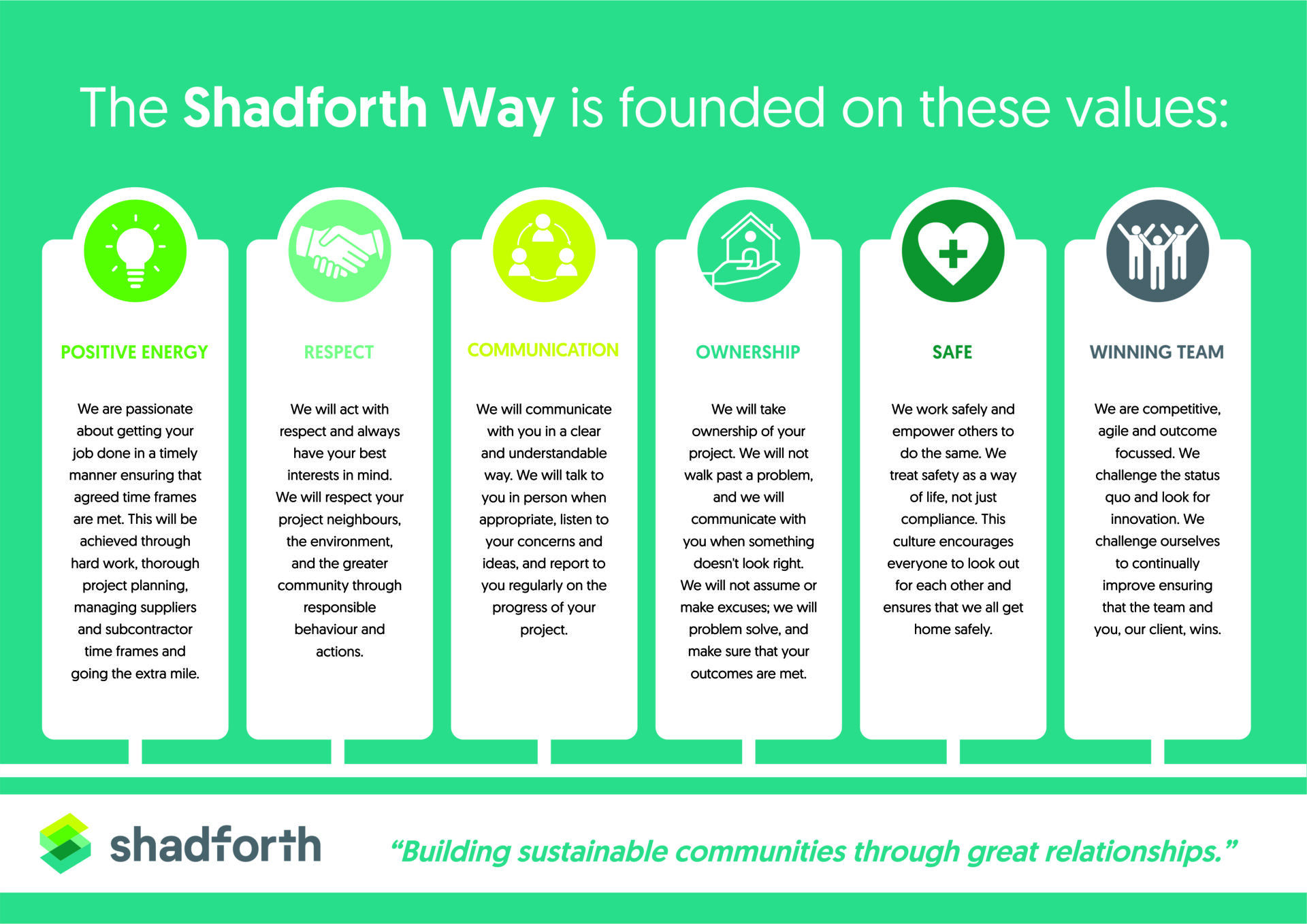 The Shadforth story began in 1964 when founder Peter Shadforth and his brother John started civil contracting together in North Queensland. Now, over 50 years later, Shadforth is one of the largest family-owned civil contractors in Queensland.
Today, Peter's nephew Ray is at the helm and leads a strong and committed team, delivering projects across Queensland and New South Wales.
Why Choose Shadforth?
Shadforth places enormous value on its strong track record of delivering on time and on budget across all different types of civil projects. Whether you have a main roads and infrastructure project, a residential, commercial or industrial subdivision, or you're in the mining sector, talk to our clients and you'll quickly develop an understanding of our quality workmanship, responsiveness, effective communication and emphasis on building great relationships.
3 Key Reasons to Work with Shadforth
Ability to 'self-deliver' a full civil solution nationwide: Shadforth have a great team of civil professionals and has more than 600 pieces of plant suitable for earthworks, sewer, water and drainage installation and road construction, all easily mobilised utilising in-house transport vehicles.
40-year track record of compliance and performance: Shadforth have developed a reputation for unsurpassed quality, consistently delivering projects on time and within budget. Regardless of the project – whether related to residential, commercial, industrial or mining, or handling road construction and infrastructure works for a government department – Shadforth focuses on your goals to deliver outcomes second-to-none.
Flexibility to respond rapidly: As a family-owned civil construction company with an accessible management structure, Shadforth work closely with all clients at a high level so you can be confident knowing you have access to the most talented people in our team at all times.
Capabilities
Stormwater drainage, sewer and water mains
Major civil structures and culverts
Residential, commercial and industrial subdivisions
Bridges
Tunnels
Airfields
Mining infrastructure
Pump stations
Bulk earthworks
Environmental rehabilitation
Road rehabilitation